KGAP+ Batch 10 Lithuania Challenge Application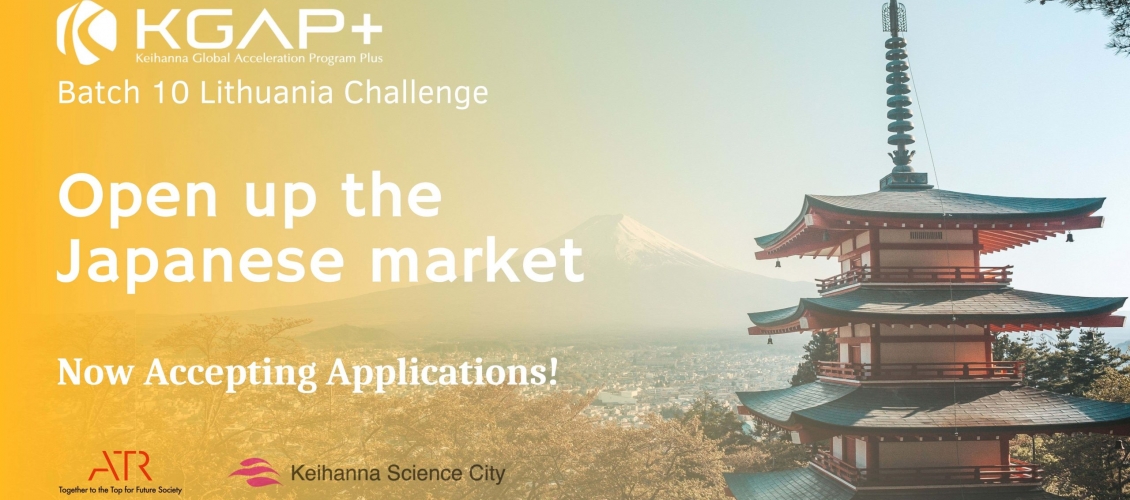 Advanced Telecommunications Research Institute International (ATR) invites startups to register, who will be able to participate in the Pitch Battle on 21st of September.
During the event, startupers will present their activities and apply to be selected for Keihanna Acceleration Program Plus (KGAP+).
KGAP+ is organized by ATR which takes the initiative in developing global innovation ecosystem as a leading institute in Keihanna Science City, Kyoto Japan.
The distinctiveness of the program is its emphasis on goals and diversity. Startups from Japan and abroad pursue a PoC or pilot testing in collaboration with Japanese organizations, and also pursue business globally. The program is partnered with worldwide innovation hubs and supported by Japanese government and public organizations.
Programme of the event:
Signing MOU between the Advanced Telecommunications Research Institute International and the Innovation Agency Lithuania
Presentation of the Bank of Lithuania (TBC)
Pitch Battle of Lithuanian startups for winning the 3 month accelerator programme
Selected candidates for the Pitch Battle will be contacted and selected by the representatives from ATR.
Jury for the Pitch Battle:
Dr. Hiroyuki Suzuki, Executive Vice President, Representative Director, ATR;
Ms. Makiko Tatsumi, Director, Strategic Management Unit & Business Development Office, ATR;
Roberta Rudokienė, Head of Startup Lithuania at Innovation Agency Lithuania. 
More about programme: https://www.kgap.jp/