Join EIT Food flagship Programmes!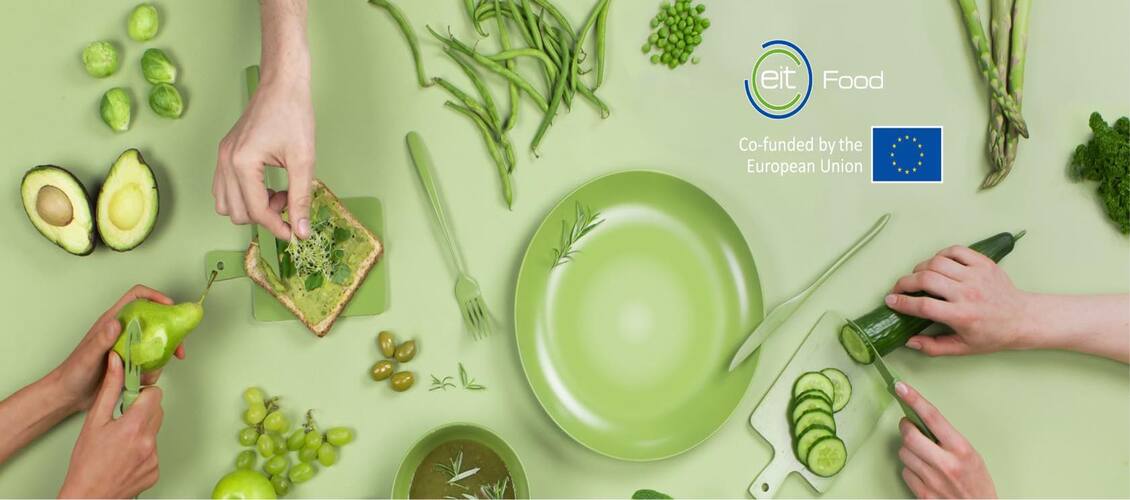 EIT Food is today the world's largest & most dynamic food innovation community.
Accelerating innovation to build a future-fit food system that produces healthy and sustainable food for all.
Whatever stage you are at with your agrifood tech venture: launch, accelerate or scale, our three hands-on, equity free programmes give the best chance to become a game changer.
Programme 1: EIT FOOD SEEDBED INCUBATOR
Turn your innovation into a market-validated business and help transform the food system with EIT Food Seedbed Incubator programme!
It is a 4-6 month programme that aims to transform science & technology-based innovations into market-validated businesses.
Who can apply to this program?
Researchers and aspiring entrepreneurs looking for MARKET AND BUSINESS VALIDATION for commercial potential.
What are the benefits for you and your business?
You can receive 7,000 € in equity-free funding, & up to 10,000 € additional equity-free funding for all teams eligible for Seedbed+.
The deadline:
Applications for EIT Food Seedbed Incubator are open until March 26th!
Apply: https://entrepreneurship.eitfood.eu/launch/
—
Programme 2: EIT FOOD ACCELERATOR NETWORK
Are you looking to grow your network, speed up your progress,
accelerate your tech innovation & fast-track your business? EIT Food Accelerator Network programme is waiting for you!
It is a 3-month, Pan-European, theme-based and cohort-style programme, that will help startups benefit from top-notch training, personalised mentoring, resources and tools needed to grow and succeed.
Who can apply to this program?
Registered (pre-) seed startups with traction indicators looking for TECH VALIDATION AND BUSINESS ACCELERATION
to drive the ultimate goal – a successful market adoption.
What are the benefits for you and your business?
The EIT Food Accelerator Network supports agrifoodstartups tackling the biggest challenges within the European food system by developing their capacity as founders and establishing continued partnerships with the world's largest most dynamic food innovation community totalling €1+ billion to accelerate their growth and impact.
The deadline:
Applications for EIT Food Seedbed Incubator are open until March 26th!
Apply: https://entrepreneurship.eitfood.eu/accelerate/
—
Programme 3: RISINGFOODSTARS
RisingFoodStars programme exists to identify the most promising aspiring scaleups in the Agrifood-Tech space & empower them to lead the revolution towards a future-fit food system.
Who can apply to this program?
This programme is for impact-driven aspiring scaleups looking for TO SUCCESFULLY UPSCALE THEIR COMMERCIAL CAPABILITIES, whether it is expanding beyond your current market(s), raising funds or gaining new commercial partners.
What are the benefits for you and your business?
RisingFoodStars boosts startups' chances of scaling up successfully. Programme offers personalised scaleup support, such as helping startups to define their strategic priorities, attract the right talent, build leadership and management capabilities, crystalise their business model and much more. It supports impact-driven ventures and their leaders, who have innovative technology and are ready to grow further.
The deadline:
Applications for EIT Food Seedbed Incubator are open until March 26th!
Apply: https://entrepreneurship.eitfood.eu/scale/
—
Programme 4: EIT JUMSTARTER
Creative community, advanced know-how, unique programme, expert trainers and mentors, this is EIT Jumpstarter.
The programme helps innovators and entrepreneurs build a viable business model around their innovative product or service idea, validate it and if their business idea is proven to be sustainable, we encourage them to register their company.
The strategic aim of this program is to create sustainable impact in the Central-Eastern and Southern-European Regions by boosting innovation and entrepreneurship within this part of Europe. The program's concept originates from the real needs of the innovation ecosystem of these regions.
Who can apply?
EIT Jumpstarter is suitable for individuals with innovative business ideas in the healthcare, agri-food, raw materials, energy, urban mobility or manufacturing sectors, who want to gain a practical insight into what it means to run a business and establish a start-up.
The deadline:
Applications for EIT Jumpstarter are open until 16 April 2023
Apply: https://apply.eitjumpstarter.eu/#starter