Impact Valley Accelerator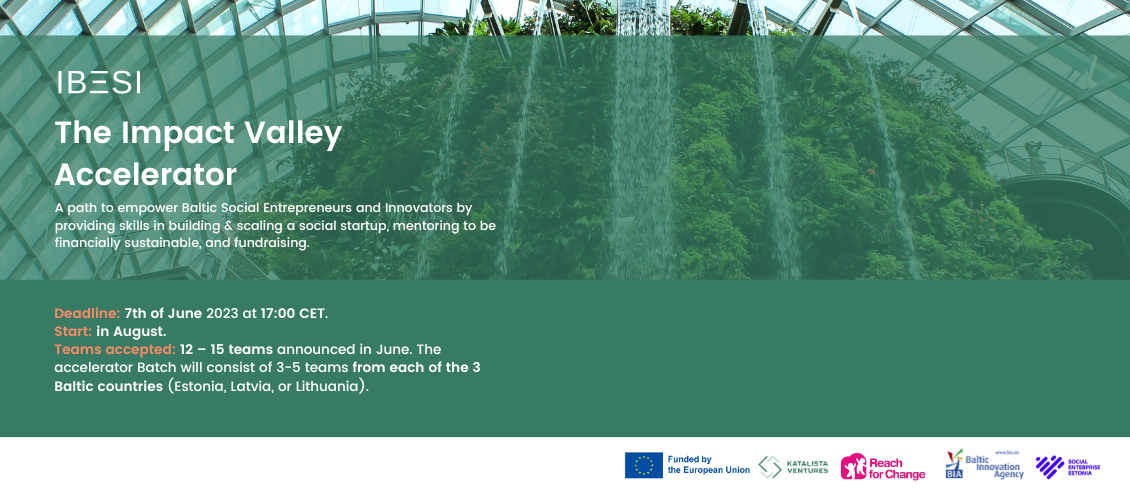 Impact Valley Accelerator is a path to empower Baltic Social Entrepreneurs and Innovators by providing skills in building & scaling a social startup, mentoring to be financially sustainable, and fundraising. 
Why should I join?
Equity-free, light schedule program.
Kick-off at Startup Fair in Vilnius with workshops & networking.
Wider access to alternative financing (crowdfunding).
Networking with local & pan-European innovation ecosystems.
Opportunity to access tested innovation models for B2B customer bases with the potential of scaling up and replicating.
Bi-weekly Chief Mentoring, Peer2Peer sessions, 1:1 on-demand mentoring with topic expert. Keynotes and discussion on value proposition, product-market fit, sustainable business model, financial projections, sales, pitching, etc.
Who can join?
Industries. Including but not restricted to Healthtech, Edtech, Agetech, Greentech, Traveltech, and Foodtech industries.
Stages. The company should have an existing product or service or be in the final stage of building it and would be able to have it ready in September of 2023.
Type of business. The applicant must be an SME or a startup.
Team. Each applicant should have a team of at least 2 co-founders who are ready to participate in the acceleration program.
Countries. All applicants should operate in Estonia, Latvia, or Lithuania.
This accelerator is organized within the Integrated Baltic Ecosystem for Social Innovation (IBESI) project by Katalista Ventures, Enterprise Estonia, Baltic Innovation Agency, and Reach for Change. Funded by the European Union.
The Impact Valley Accelerator is organized as a part of the Integrated Baltic Ecosystem for Social Innovation (IBESI) project. The project is funded by the European Union through the European Innovation Council and SMEs Executive Agency (EISMEA).
Katalista Ventures, Baltic Innovation Agency, Reach for Change, Social Enterprise Estonia
Deadline: the 7th of June 2023 at 17:00 CET.
Start: in August.
Read more and apply: here