Hackathon "Rethinking Hardware 2.0"

Mar 31, 16:00 - Apr 02, 17:00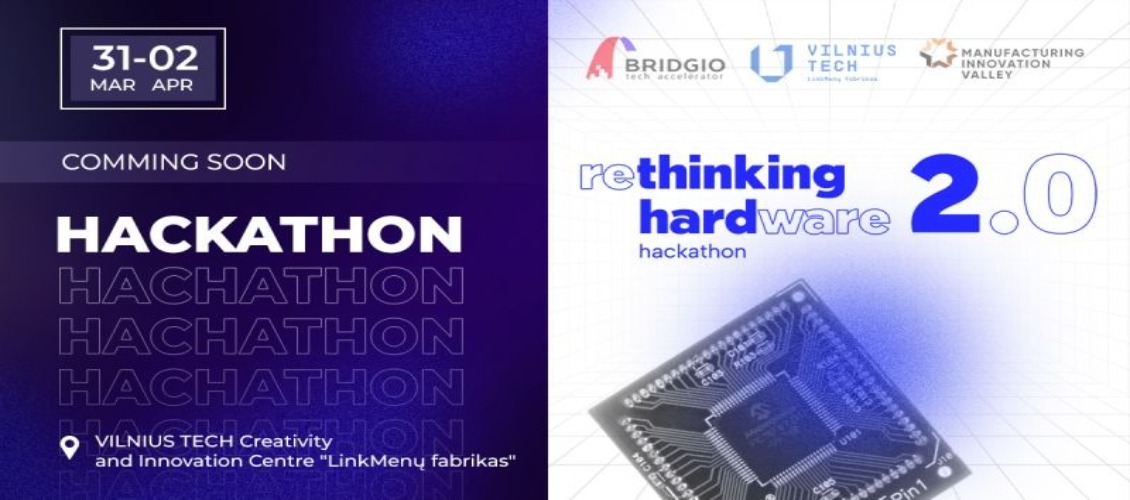 Rethinking Hardware 2.0 are excited to announce the launch of the Hackathon on the 31st March – 2nd April 2023 at VILNIUS TECH Creativity and Innovation Centre "LinkMenų fabrikas" with the support of Manufacturing Innovation Valley.
Attendees:
Hackathon invites students with a technical hardware background, hardware startups of different stages, hardware geeks & enthusiasts, and engineers to channel hardware technologies toward reaching United Nations Sustainable development goals.
Vision:
Focusing on United Nations Sustainable Development Goals (UN SDG) & impact technologies, we intend to accomplish the high potential of innovative hardware solutions in producing a wide range of measurable social, economic, and environmental effects.
Topics of Rethinking hardware 2.0:
Hardware solutions for sustainable agriculture (SDG2)
Hardware solutions for affordable and sustainable energy (SDG7)
Hardware solutions for sustainable cities (SDG11)
Sustainable transport
Sustainable human settlements
Here's what you need to do to participate in the Rethinking hardware 2.0:
During the "Rethinking hardware 2.0" hackathon, you and your team can solve a challenge that you think of or choose from the list proposed to you by the Rethinking hardware 2.0 team
*check the challenges: here
Your challenges need to be in the topic of this year – focusing on United Nations Sustainable Development Goals (UN SDG) & impact technologies.
The solution for your proposed challenge needs to be hardware.
The solution should enhance the achievement of SDG. The positive effect should be trackable and measurable
Date: 31 March – 2 April 2023
Location: VILNIUS TECH Creativity and Innovation Centre "LinkMenų fabrikas"
Registration: here