EIT Manufacturing in Lithuania – Opportunities For Innovation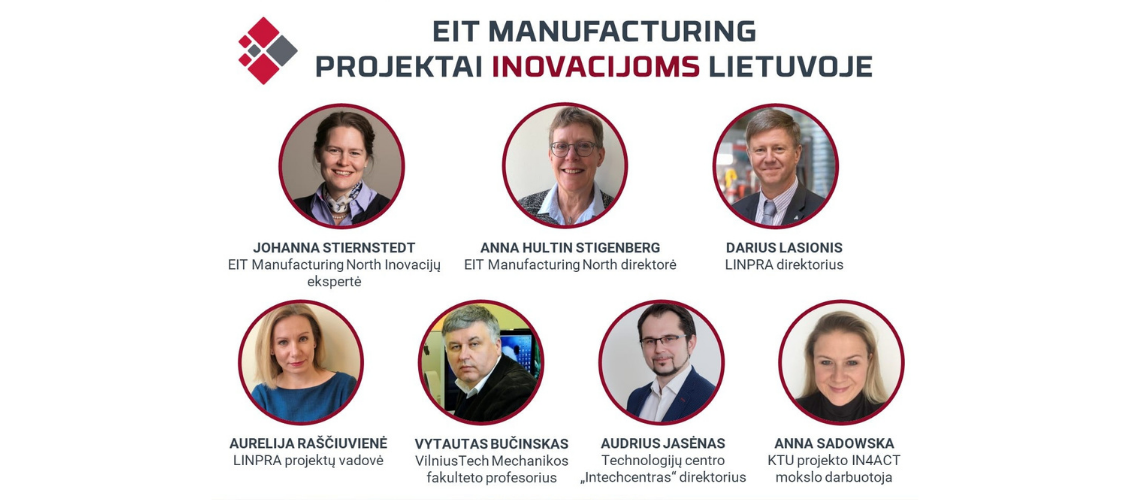 LINPRA, the Lithuanian Engineering and Technology Industry Association, invites representatives of engineering and technology industry companies, scale-ups and start-ups to a presentation of the international EIT Manufacturing community, projects and their given financial opportunities. The aim of the event is to present in detail the activities of the community, its benefits and opportunities for SMEs and start-up businesses and innovators, examples of projects, Lithuania's involvement and ongoing projects, and at the same time to encourage participation in the EIT Manufacturing calls for proposals.
Event will take place at the venue Creativity and Innovation Centre "LinkMenų fabrikas", Linkmenų g. 28. And will be live streamed on LINPRA Facebook here. 
AGENDA (EET)
09:45 Welcome coffee and participant registration
10:00 Anna Hultin Stigenberg, Director EIT Manufacturing North and Johanna Stiernstedt, Innovation Manager EIT Manufacturing North | Introduction of EIT Manufacturing
10:20 Darius Lasionis, LINPRA director | EIT Manufacturing RIS Hub in Lithuania
10:40 Aurelija Raščiuvienė, LINPRA project manager, and Vytautas Bučinskas, VilniusTech professor, Head of department of Mechatronics and robotics | Project DECOTE
11:00 Audrius Jasėnas, Technology centre Intechcentras director | Project ECOSYSTEM
11:15 Anna Sadowska, researcher at project IN4ACT | Funding Innovation opportunities for manufacturing in Horizon Europe Programme
11:30 Q&A
12:00 End
Find out more HERE.