DevOps and Cloud Academy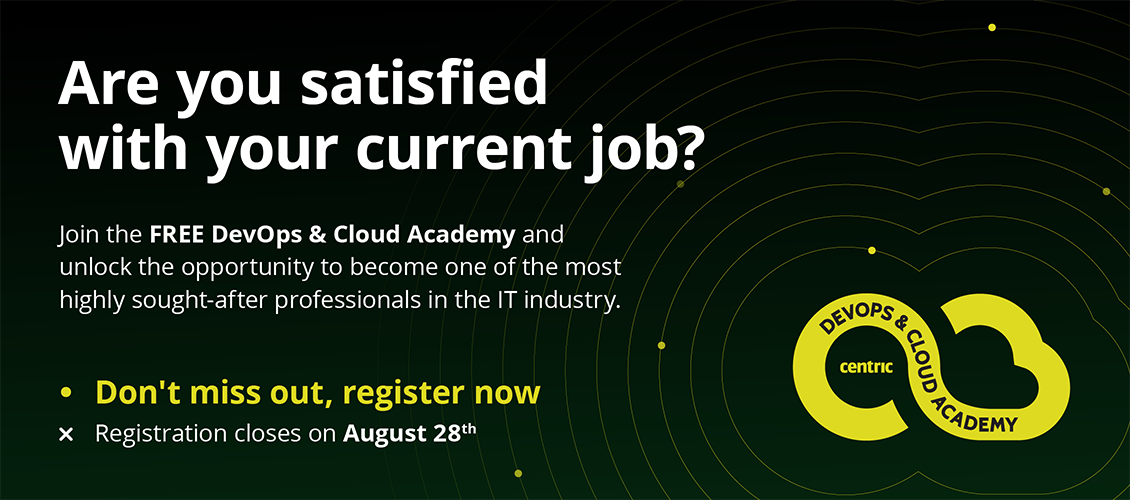 The DevOps and Cloud Academy: take a step towards the future of IT!
Introducing Centric IT Solutions Lithuania DevOps and Cloud Academy: a free 12-week program led by industry experts, providing transformative theoretical and practical training. Gain essential skills in Cloud deployment, administration, automation, source code management, CI/CD, and DevOps best practices. Receive personalized mentorship needed to excel in this dynamic field.
Why attend the DevOps and Cloud Academy?
· Unique opportunity to approach a real-life environment with highly skilled professionals.
· Possibility to obtain a concentrated knowledge of Cloud Administration and Engineering fundamentals.
· Concentrated learning experience in Cloud management, DevOps practices, tools, and techniques.
· You will have a chance to fill one of the seats at the DevOps and Cloud team as a full-time Centric employee.
· Centric IT Solutions Lithuania is investing in the future of IT by offering a completely FREE academy to selected attendees.
We invite you to register until August 28th and start autumn with a step towards success in IT.
Register now: https://careers.centric.eu/lt/devops-cloud-academy/registration/
Follow us on social media:
Facebook: https://www.facebook.com/CentricITSolutionsLithuania/
Linkedin: https://lt.linkedin.com/company/centric-it-solutions-lithuania