EIT Health RIS Innovation Call
EIT Health Innostars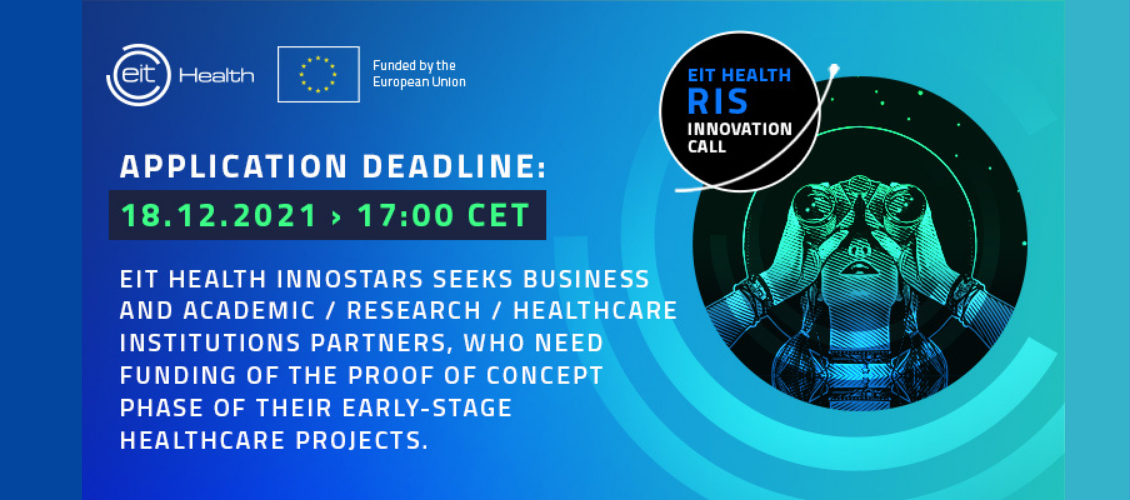 About
EIT Health InnoStars seeks partners with early-stage healthcare projects. Its purpose is to fund the proof-of-concept phase for high-quality, strong, balanced projects, targeting EIT Health's six Focus Areas and to be developed by local actors including both business and academic/research/healthcare institutions.
Opportunities
Trainings (training modules include: Innovations canvas, Prototyping, IPR, GDPR, Business Development Plan, Pitch training, Start-up financing, Investment strategy, Funding opportunities) and mentoring sessions, financing up to 75 thousand euro.
Calling for
At least 2 legal entities' established in Lithuania collaboration is expected – Business AND Academic Institution OR Research Institute OR Health care Institution. Natural persons are not eligible.The leader legal entity of the partnership must have an established and registered representation/branch in the NUTS2 North East Region, Lithuania.
Maximum funding amount
The requested funding per partner may not exceed €25.000. This sum may vary depending on the enterprise category – small, medium enterprise.
More information and application HERE. 
If you're interested to learn more you are welcome to attend RIS Innovation Call 2022 Webinar on November 2nd, 2021 10:00 AM CET. 
Topics:
▪ Introduction of EIT Health and EIT Health RIS Programme
▪ Introduction of the EIT Health RIS Innovation Call 2022
▪ Introduction of the Application form in details
▪ Tips on how to submit a successful proposal
Link to Zoom meeting: https://us02web.zoom.us/j/87868952996?pwd=Rk9Vbjh0Unorbk5rbW14alNlUndSQT09
Deadline for Applications: 2021-12-18