This Week's Opportunities For Startups | April 6-11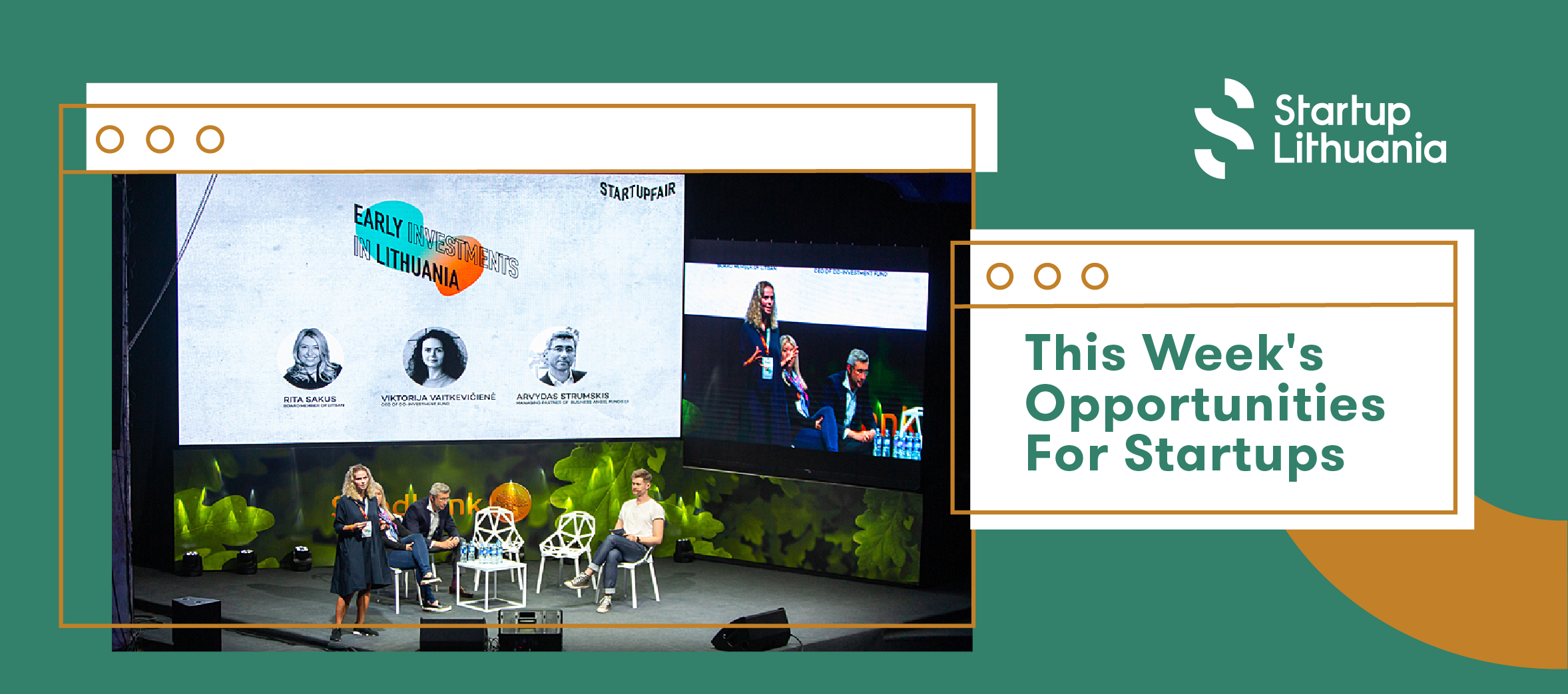 Do you ever feel like there simply is not enough time in the week to get everything that you want to do accomplished?
No prob. That's why we've done all the work for you and prepared a list of opportunities to try this week and we are in hurry to share them with you! This week is full of seminars, workshops and many other great opportunities, don't wait, just attend:
📣 AgriFood Lithuania | Webinar: AgROBOfood – Future Of Robotics

The webinar will give you an insight into the agROBOfood project – and how you can receive funding to connect the agriculture and food industry with robotics to solve real challenges.
This webinar will give you:
A guide to applying for the Open Call to receive funding for your idea;
An overview of future Open Calls in agROBOfood;
Insight into the meat and fish challenges of agROBOfood – with two perspectives;
Networking with relevant members from the Nordic/Baltic region.
April 7th 2021 at 10:30-11:30 (Vilnius time). Event – https://fb.me/e/hie8qLQz5 & registration – https://bit.ly/3deGiwa
📣 Futurepreneurs Demo Day | Lithuania

We invite everyone interested in entrepreneurship, sustainability, and startups to join the Grand Final of #Futurepreneurs2021 – DEMO DAY! 🚀 The event will take place on the 7th of April and will be fully digital!
Teams of the pre-acceleration program will present their sustainable business ideas 💡 for the jury members and the public.
Check out the event: https://fb.me/e/krTPN4dTS
📣 ISM University of Management and Economics | ISM goes TECH. Hackathon

ISM University of Management and Economics invites students (grades 11/12) that are real technology, data analytics, marketing, and entrepreneurship enthusiasts, into their upcoming hackathon. This hackathon will be a two-day event where you will create a business idea together with team members and friendly mentors, and the best solutions will be awarded great prizes!
Find out more: https://fb.me/e/18utk35mm
📣 Startup Grind Vilnius | The app that tests your soft skills – a fireside chat with Karolis Merkys, Emotika

A fireside chat with Karolis Merkys from Emotika.
Check out the event: https://fb.me/e/d4RhBt5IW
📣 GovTech Lab Lithuania | GovTech Hackathon | Let's Co-create Our Future Together

GovTech Lab Lithuania together with Lithuanian Business Angel Network are pleased to invite you to the virtual Govtech Hackathon | Let's Co-Create Our Future Together on April 16-18!
No matter your profession, we invite you to join us – register your team or sign up on your own and we will help you match with the teams. Whether you are a student, developer, marketing expert, project manager, business guru, or a responsible citizen, GovTech Hackathon is waiting for you!
🏆 The winning teams will be selected to participate in the GovTech Co-create Accelerator! 🤩
Register here: https://bit.ly/GovTechHackathon
📣 Rockit | Cyber Security Hackathon

💻 No doubts that pandemic and digitalization have changed our identities and behavior in the digital network. Are we secure enough, how we need to change our cyber hygiene, how to safe our biometrics, where to store all the data, and many more challenges are waiting for you at Rockit Cyber Security Hackathon! Your progress weekend can change somebody's actions! 
➡️ Why participate?
🛡️Rise your knowledge
🛡️Meet new professional people
🛡️Get new skills
🛡️Show your profecionality
🛡️Make your weekend special 🦄
🛡️Win great prizes! (will be announced soon 😉
Join the hackathon here 👉 eventornado.com/event/lost-in-identity-hackathon
📣 REGISTER NOW! | Startup Lithuania & CIVITTA & BlockStart | Exploring Blockchain Ecosystem: Collaboration Between Startups and SMEs

Startup Lithuania has partnered with Civitta to bring together well-known blockchain experts, startups, and SMEs adopting blockchain solutions. In this upcoming panel discussion they will explore the blockchain ecosystem now and the future ahead, discuss the importance and opportunities for collaborations and share their lessons learned.
Follow the event: https://fb.me/e/4avUuuKLc & register here: ➡️ https://forms.office.com/r/5nZ0w4aSNz
📣 APPLY NOW! | Wise Guys SaaS – Vilnius acceleration program

Europe's leading B2B accelerator Startup Wise Guys has opened applications to the Wise Guys SaaS acceleration program starting June 2021! It's a hands-on up to 5 months long intense mentoring program run with nine content modules to cover all aspects of accelerating product, company, and founders.
They are looking for B2B SaaS startups with initial traction, MVP and a solid and passionate team with global ambitions!
Selected startups will receive access to:
Initial investment up to 50K EUR + follow-on rounds
Up to 5 months long intensive full-time mentoring program
250+ mentors and 200+ investors
👉 Apply until May 21! Here: https://bit.ly/3rxv5fm