Startup Of the Week: Memby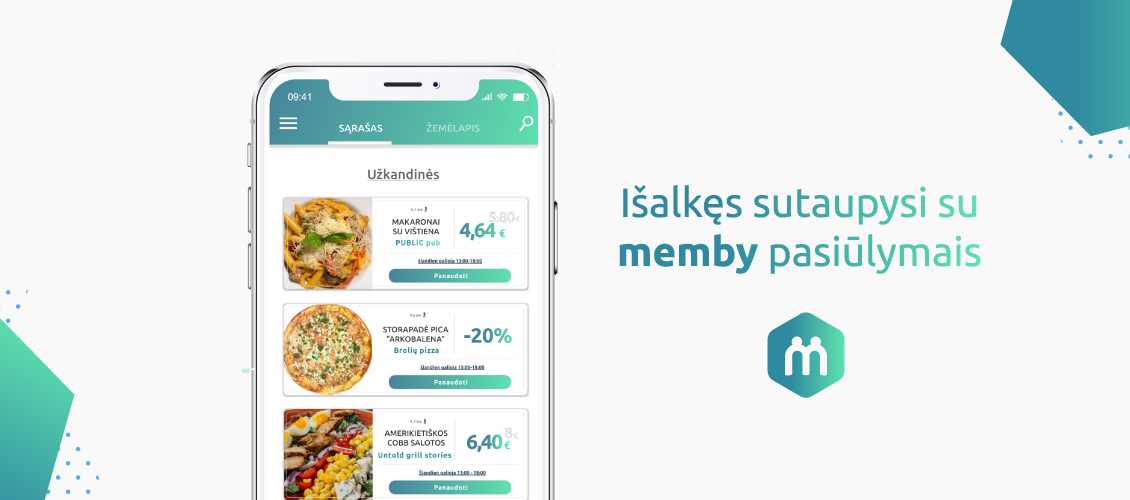 Nowadays food business field is booming as never before. People want the highest quality in short time with great price offers. For this reason, this week we present another promising startup – Memby. Through the interview, Silvestras Stonkus, the CEO and Founder of Memby explains how this platform helps to find exclusive deals and brings an advantage to a customer.
So what is Memby? How does it work?
Memby is helping people to find exclusive deals at local restaurants and cafes. Looking from the business side, we offer another marketing channel to fulfill the tables during the off-peak hours.  
The user simply needs to scan the QR code via the Memby app in the deal provider's restaurant. Once it's scanned, a user shows it to the cashier and takes advantage of a discount. 
What are your competitors and competitive advantages?
In Lithuania, we face indirect competition from Wolt, Meniu.lt, and some food coupons, loyalty card providers like Charlie Pizza. However, Lithuania doesn't have another food & beverage deals provider so far. Which means the time is our competitive advantage here. 
Well, while time wouldn't be an advantage abroad, our flexibility and ease to join the platform for business customers would work for certain.
What were the reasons behind coming up with this idea and launching this product? 
We run a mission to bring the best local food and entertainment establishments to life. I (Silvestras) personally always have been working in the food and entertainment industry. Right before the foundation of Memby, I was thinking about my little home-made burger site. However, this wonderful idea of helping small businesses while saving people' money and time of discovering new places changed the life of the whole team completely. 
When exactly did you launch, what were the main challenges before launching?
We have changed our concept completely from last year and we launched a new one by the start of 2020. We are still newbies who are struggling to find their product-market fit. 
So far, our main challenge is to get trust from companies as we are still not a well-known company offering a customer attraction service. 
What are your target customers? Both in terms of user profile and geography?
We focus on Vilnius residents, mostly young adults, who can use a discount during off-peak hours. So far, freelancers and students suit us perfectly as a customer. However, as we expand, we have more offers that are available during the rush hours so our target audience gets broader. 
What are the main challenges while working on this product and how are you overcoming them?
While working on our platform, we have noticed a negative attitude towards the discount from small business owners of Lithuania. Offers and deals are valued as a cheap move that is suitable only for larger companies and that could harm the long-term. However, the attitude in western European countries, like the UK, is completely different. Even the fanciest restaurants are offering deals and they work perfectly for them, especially when considering a restaurant's ability to be profitable during the off-peak hours.
How are you funded? Do you seek extra funding?
So far, we are funded from our own pockets. We don't see a need for funding while we are still working on getting great traction and making the early adopters. Once we are done with that, we will seek seed funding for our company.
Please introduce your founders, your core team and your broader team?
Silvestras Stonkus – Founder. I mostly work with business partners and marketing. Also, I keep generating ideas for improvements and works on day-to-day basis planning. 
Eimantas Bekėža – Co-Founder. Our brains in strategy. Eimantas keeps killing Silvestras' ideas to maintain a focus on the most important goals. Most of the time he is working with customers and business partners.
Mantas Laurinavičius – Co-Founder. A well-experienced programmer that focuses on developing the iOS app and helps to find a solution to serious product development problems. 
Vytautas Stonys – Co-Founder. An Android programmer, who also works on the platform's database to provide data-driven information. 
How has business been so far? Could you share some numbers to illustrate this (users, sales, etc)?
We haven't reached the growth phase yet. 
Currently, we are working on establishing a product-market fit on a small scale. Last month we reached over 1000 downloads and over 100 customers have used the Memby app. 
Future plans, ambitions? Simply speaking – what's next?
Once we establish a product-market fit, fully understand who we are and what results we can bring, we will seek investment to scale to South East Asia's market – Vietnam to start with. 
We also have ambitions to test other leisure activities as well, integrating events and other leisure time activities into our platform.
Thank You for the answers!
Check out more interviews from Startup Of the Week here.