SEB Group will invest in Baltic fintech start-ups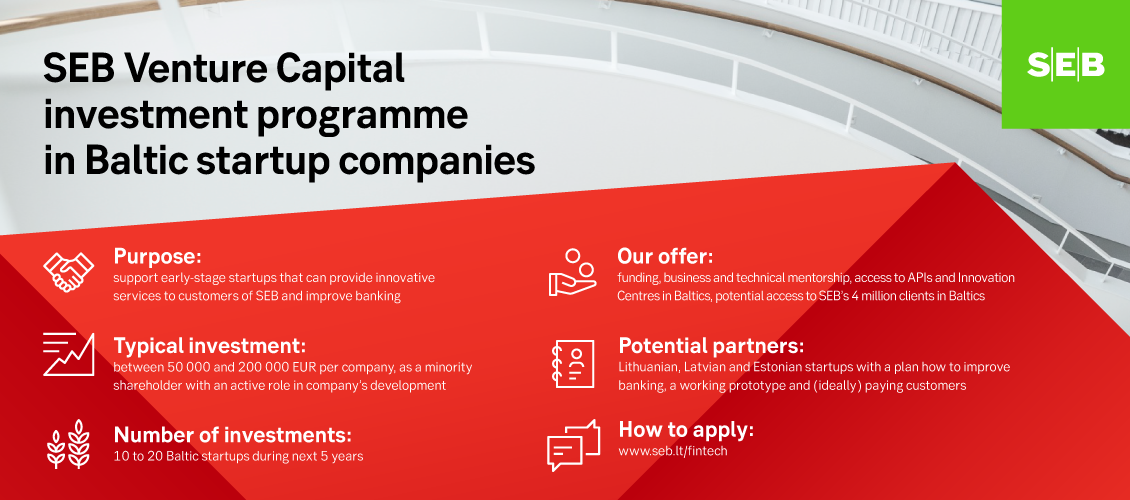 SEB Group is launching its venture capital investment programme for fintech start-ups in Lithuania, Latvia and Estonia: in cooperation with its future partners, it will develop new generation services for its customers.
"We are willing to create synergy with Baltic high potential fintech start-ups and work together towards improving financial services. The aim of the investment is to find fintech start-ups that have ideas relevant for banking customers and able to provide support for their implementation. Innovative fintech solutions would enable creating customer services offering them more convenience, simplicity and safety at the same time opening growth opportunities for fintech companies, reaching bank customers and using other resources", says  Vaidas Žagūnis, member of the management board and Head of Retail Banking Division of SEB Bank.
SEB will invest into 10 to 20 Baltic start-ups, investments ranging from 50 thousand to 200 thousand euros per company thus becoming a company's minority shareholder contributing towards its development.  Žagūnis maintains that the bank will provide its cooperation partners with financial and technical support, specialist and mentorship advice, secure access to data via application programming interface (API) and, if necessary, a workplace at SEB Innovation Centre. The support will help young businesses grow faster. Start-ups working in the area of financial services or in any other areas will be able to seek financing from the bank provided they have ideas that are of relevance to the financial sector, for instance, solutions for automation, artificial intelligence, machine learning, etc.   
SEB's representative maintains that in the process of selecting potential partners the bank will assess how the solutions offered by the companies can improve customer services, what makes their technologies special, how strong their teams are, how motivated they are to embark on major projects, how large their customer base is, what their income level is. Also, the next three-year market opportunities, return on investment and ways in which SEB could help its cooperation partners grow will be analyzed. The SEB Group in Sweden has been investing in fintech companies since 2016.
According to the World Economic Forum, the Baltic states are among the most innovating countries in the European Union in terms of emergence of start-ups and ideas generated by employees of existing companies. Among 28 countries, Lithuania, Latvia and Estonia, like Sweden, are in top seven of the most innovative countries. Among the best-known successful businesses in the region are Skype and TransferWise, developed in Estonia.
Those willing to launch their fintech business ideas and cooperate with SEB are advised to contact Andrius Bolšaitis, Head of the Innovation Centre by e-mail andrius.bolsaitis@seb.lt or www.seb.lt/fintech