LOGIN Startup Fair: Fansy – Making It Easier for Gaming Video Streamers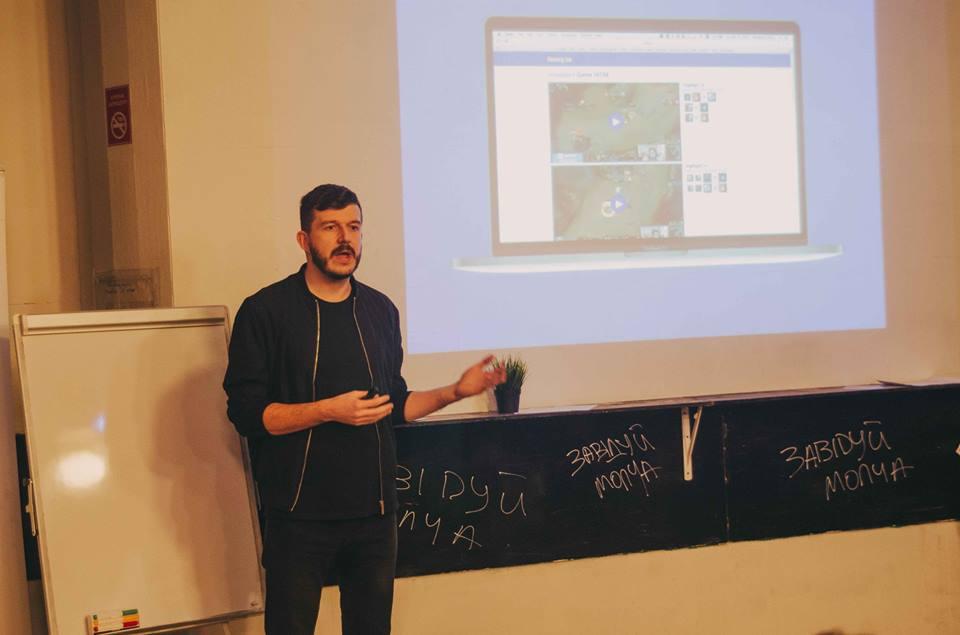 We're happy to introduce you Fansy, a Minsk-based company that helps gamers to make their job of streaming video games easier. Fansy will come to LOGIN Startup Fair on 24-25 of May as they were among the three winners at Startup Lithuania's Roadshow/Pitch Battle in Minsk.
We asked Konstantin Keller, Fansy co-founder, to introduce his company to our readers.
Huge congratulations for winning Pitch Battle in Minsk! Let's introduce you to our readers – what is Fansy? What were the reasons behind coming up with this idea and launching this product?
Konstantin: Gaming videos are one of the most popular types of content on the internet with more than 50 billion minutes recorded each year by 2 million gamers. While the amount of video content is increasing, there's still no solution that understands what's going on inside these quadrillions of pixels. This creates problems for platforms and creators alike.
Let's take one of the most popular Twitch streamers to illustrate the problem. Imaqtpie has more than 1,500,000 followers but his past broadcasts have only got 7,000 views on average. That's because they look like 8-hours black-box with only a title and thumbnail. To solve this, Imaqtpie have to watch entire stream spotting interesting moments and making short videos with the best moments for each game. This is a lot of work, so he prefer to hire video editor and pay him around $100 per video. This short video got nearly 1,000,000 views on YouTube.
What if Imaqtpie can work with his video as simply as text files? Searching for keywords, highlighting interesting moments and dividing parts into chapters. Now he can with Fansy. Look at the demo: http://fansy.io/streamer/imaqtpie. Fansy divided Imaqtpie streams into separate games. Inside each game it highlighted the most interesting moments and filled them with searchable meta-information.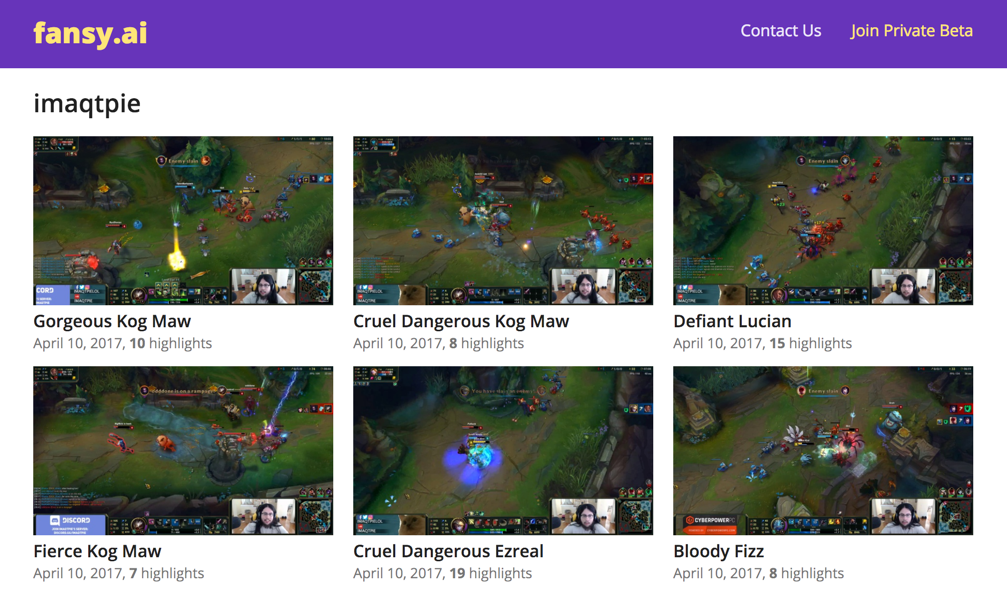 What were the main challenges before launching?
Konstantin: From a technical point of view, the main challenges were to balance recognition speed and costs with the high algorithm accuracy. We have achieved good results here: we are 95% accurate at detecting highlights; videos are almost instantly ready to watch and the infrastructure cost us $0.02 per one hour of processing.
Right now, we are in the invite-only stage, strictly testing our technology with selected League of Legends streamers.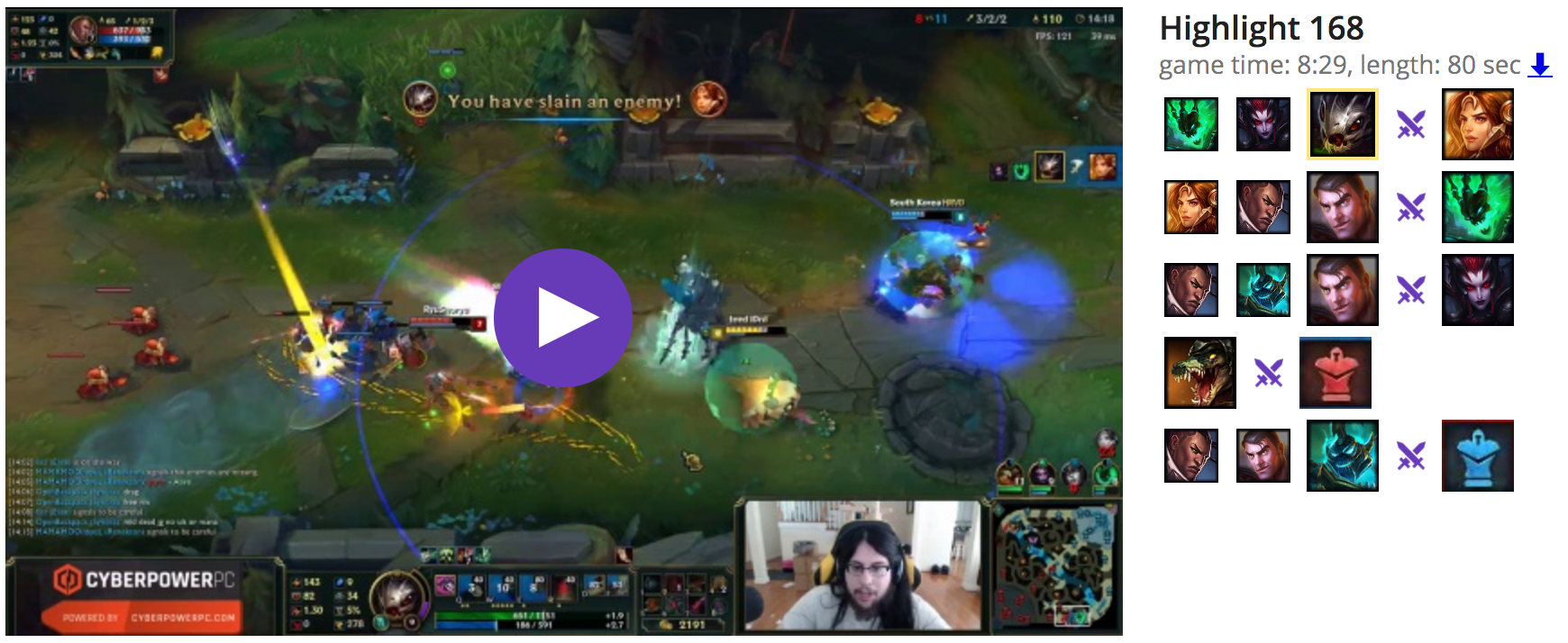 Who and what are your target customers?
Konstantin: Both streaming platforms and streamers can benefit from Fansy, but right now we are focusing on streamers.
What is your mission?
Konstantin: Our mission is to build machines that can understand video and produce high-quality video content, faster and cheaper than people can.
How are you funded? Do you seek extra funding?
Konstantin: We invested our own money to build the first version of Fansy. Now we are looking for investors to speed up product development and growth.
Please introduce your founders, your core team and your broader team? How did you meet?
Konstantin: There was an AI hackaton in Minsk and at that time I already had the idea about Fansy, and I was looking for a developer who could help me build it. So I went to UpWork and contacted all computer vision engineers in Belarus, Russian and Ukraine and invited them to join my team. Most of them said that I'm crazy and they wouldn't go to another country just for a hackaton, but not Sergey. After a short conversation, he booked plane tickets, and two weeks later he arrived in Minsk.
We built the first prototype of Fansy at that hackaton, and at the end I understood that he was going to be the best co-founder that I've ever met. In addition to his passion, he has over 10 years of experience in the field of computer vision, image analysis and machine learning and holds a PhD in computer science, received from Middlesex University, UK. At the same time, I've spent last 3 years working in game industry (in Wargaming.net, the company that created World of Tanks) so I know a lot about the market.
Also we have 4 more engineers with great expertise in computer vision, machine learning and cloud services.

Thank you Konstantin for your time!
You will be able to meet Fansy in Vilnius at LOGIN Startup Fair on 24-25 of May and you can register your startup as well. Our next Roadshow event will take place on April 19 in Kiev. See you there!