Lithuania's largest Mobile Apps Labaratory opens at VGTU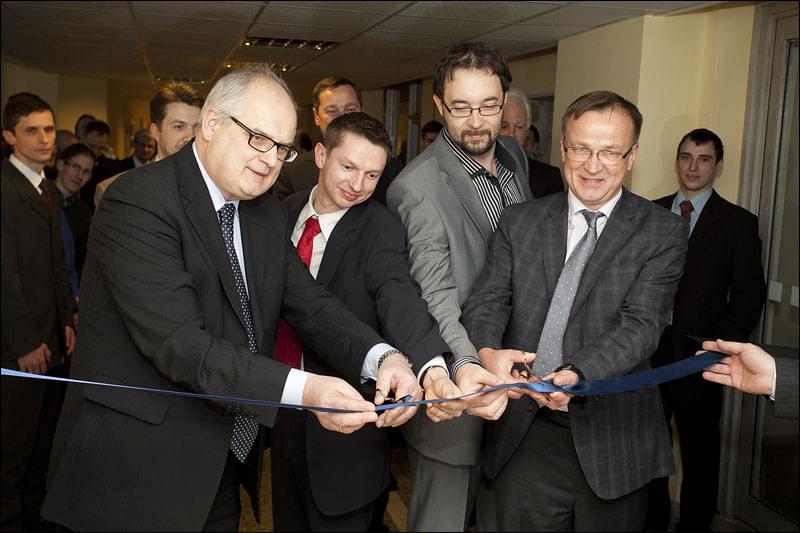 The fourth Mobile Applications Laboratory was today opened in Vilnius Gediminas Technical University (VGTU). It was jointly created and funded by Vilnius City Municipality, VGTU, Microsoft Lietuva UAB, Nokia Lietuva UAB, telecommunications company Omnitel UAB and App Camp UAB. This is the largest Mobile Apps Laboratory so far, with 40 work stations. Its interior has been designed by students.
The new 110-square-metre lab comprises two rooms, with a Microsoft and Nokia classroom in one and Apple in the other. Students can make use of the latest devices to develop innovative solutions, such as Nokia mobile phones with a Windows Phone operating system, Microsoft's Xbox game console, iPhone smartphones and iPad tablet PCs.
– 'Multimedia and computer design studies are among the most popular at our university. They encompass work with images, sounds, animations and text, says Prof. Habil. Dr. Antanas Čenys, Vice-Rector for Research at VGTU. We are certain that students from these disciplines will often use this lab and it will become a breeding ground for distinctive and innovative projects.'
Projects, coursework and laboratory work carried out in the Mobile Apps Lab will be credited as students'professional practice.
– 'Rapid growth of the Mobile Apps Laboratories network in Lithuanian higher-education institutions attests to the fact that mobile solutions are one of the catalysts of tomorrow's economy, says Antanas Zabulis, President and CEO at Omnitel. We and our partners want to provide capable young students with an opportunity to not only apply their knowledge in practice, but also make money from it and start a business.'
Lab partner Microsoft Lietuva believes the new facility will provide students with an opportunity to develop world-class projects.
– 'Mobile apps are currently at the height of their popularity in Lithuania, says Kristijonas Kaikaris, CEO at Microsoft Lietuva. This new infrastructure will facilitate Lithuanian students' success in developing apps for both domestic and foreign markets. We would also like to invite young Lithuanian programmers to use the available funding: Microsoft and Nokia are jointly implementing an App Camp programme worth €18 million. Financial support is available for app developers for the increasingly-popular Windows Phone platform.'
A partnership with the Mobile Apps Lab, which will become a hub of innovative solutions, is also of prime importance to the city of Vilnius.
– 'I am very happy that in Vilnius, as a city with the fastest internet in the world, new spaces continue to appear for creating the city of the future, says Vilnius City Mayor Artūras Zuokas. I believe that this facility will be used by those who see the world not as it is, but as it could be. So I would like to wish that this new technology would help our most creative minds achieve best possible results.'
App Camp intends to continue expanding the Mobile Apps Laboratories Network.
– 'In the near future, such labs will be open not only in Lithuania's higher-education institutions, but also abroad, says Tomas Martūnas, Head of App Camp. All these labs share the same goal: to unite academic and business communities and encourage the younger generation to apply in practice the knowledgegained during their studies, creating innovative solutions with business potential.
The new Mobile Apps Laboratory is found in the 2nd VGTU Laboratory Block (Saulėtekis Alley 11, Vilnius). University students, who also designed the lab's interior, will have a chance to use the facility both for developing new mobile solutions and spending their free time there.
The first three Mobile Apps Laboratories were opened in Vilnius University (VU), Kaunas University of Technology (KTU) and Klaipėda State College. The lab in VU was created in cooperation with Chinese telecommunication company Huawei, in KTU with Samsung Electronics Baltics and in Klaipėda with Sony. Omnitel and App Camp have contributed to the creation of all three of them.
Media contacts
________________________________________________
Tomas Martūnas, Head of App Camp
+370 611 453 76; t.martunas@appcamp.lt
Daiva Selickaitė, Head of Public Relations at Omnitel
+370 686 85 906; d.selickaite@omnitel.net