Get Ready For Telia HUB (IOT) Hackathon!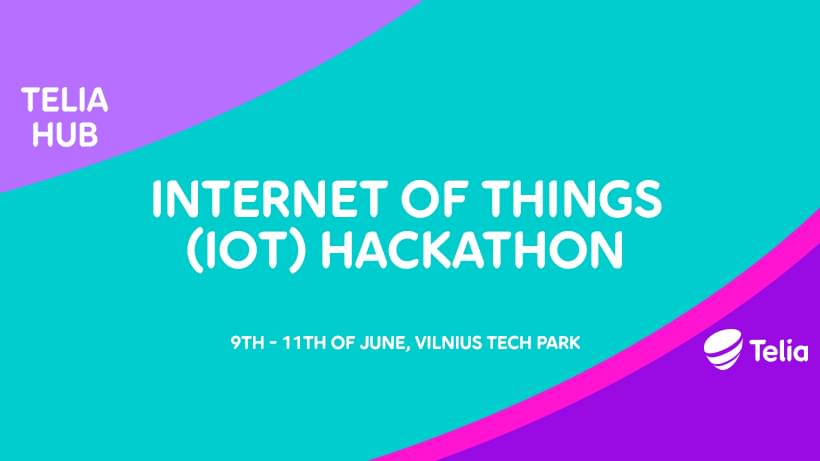 On 9-11 June, Lithuania's Vilnius Tech Park will host TELIA HUB: Internet Of Things (IoT) hackathon. During the event, technology enthusiasts will develop prototypes of innovative internet of things products and compete for awards – 1000 EUR cash prize and an opportunity to continue project development together with Telia specialists.
According to Mantas Goštautas, New Business Develoment Manager of Telia Lithuania, the IoT hackathon marks the launch of Telia mentorship program.
"Telecommunications business long ago has moved beyond television and mobile services: new technologies and devices, enabling communication among people and devices, constantly occur. During the hackathon, we will encourage start-ups to look for new business ideas. The winners we receive our help in the process of delivering the product to the market", comments M. Goštautas.
During the festival of ideas, participants are encouraged to suggest business topics: smart homes, digital security, sports & lifestyle, retail, production, logistics, public transport routes optimization or other.
For the participants of TELIA HUB: IoT hackathon, the company will provide its cloud services. Moreover, for the product development, teams will have an opportunity to use a unique product by Telia – IoT 101 device, which is able to provide real time information about position, movement and climate around a particular object with a help of sensors.
Participants will be able to develop their own business idea or to build teams with other participants. The goal of teams is to create a prototype of the product or service and deliver it to the jury within 48 hours.
Teams will be able to consult with Telia representatives and other startup ecosystem professionals. The winners of the hackathon will receive cash prize and an opportunity to further develop their product during Telia HUB mentoring program. For program participants, the company will provide all the necessary technological infrastructure to test a product or service, using Telia's databases and sales channels.
More than 20 participating experts from various fields – technology, business development, finance, law, communication and other – will consult start-ups and personally engage in product development.
Creative workshop Telia HUB: Internet Of Things is organized by Telia Lithuania together with technology centre Vilnius Tech Park.
More information and registration: www.hackergamespro.lt
About Telia HUB mentorship program
Telia HUB is a mentorship program for tech start-ups and new business ideas developers. By participating in this program, startups can create solutions that would provide real value for customers, using Telia's communications, telecommunications, TV and IT infrastructure as well as a variety of network data. Also, during the program, participants have an opportunity to consult with the company's experts, use a unique tool IoT 101 and its sales channels. Telia invites to participate startups that have a business idea and have a final product.