Full Speed Ahead – Lithuanian Startup Scene Update (Guest Post)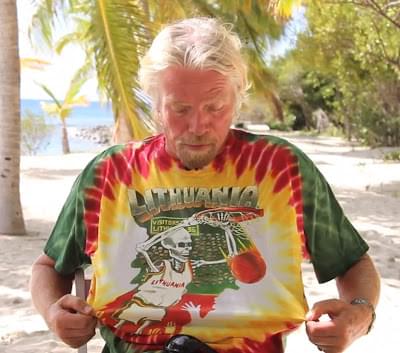 Sir Richard Branson in his private island.
Sir Richard Branson is coming to Lithuania (video)! Not exactly directly startup related, but very good news. At least for me, I am a fan
Read more about it here. Big thanks for making this happen goes to Vladas Lasas!
In the photo sir Richard is showing off his t-shirt, which Lithuanian Olympic basketball team wore in the '92 Olympics in Barcelona – the 1 st Olympics where Lithuania participated just after breaking out of Soviet Union.
Tech Chill Baltics conference (a followup for last year's TechCrunch Baltics) took place on February 12th in Riga Latvia. Movers and shakers of Baltic startup community gathered from Finland, Estonia, Latvia, Lithuania, Poland, Russia etc. with keynote speakers from all over the place. There was also startup pitching competition, where Lithuanian startup Bliu Bliu (from Startup Weekend Lithuania) took the 1st place and got mentioned in TechCrunch!
Cudos to organizers TechHub Riga, they did a great job. Follow #TCBaltics @TCBaltics for photos, videos and presentations from the event.
Among all the cool folks who came down to TCBaltics was Yevgeniy Brikman, software developer @ LinkedIn – thanks to Enterprise Lithuania who made it possible for him to visit HUB Vilnius in Lithuania and TCBaltics in Latvia. Yevgeniy (or Jim) describes himself as "Hacker, writer, designer, code monkey, architect." in his LinkedIn profile, but he is also a great talker and presenter, check out one of his presentations in his Slideshare.
Lithuanian startup CGTrader – a marketplace for 3D artists and engineers, where one can sell, buy or download free 3D models for projects and 3D print is going to be 2 years old next months! To celebrate CGTrader is announcing a3D model competition for designers:
Lithuanian startup TransferGo announced that Greg Kidd (initial Twitter investor, strategic advisor to Square and Promontory Financial Group) has officially joined their advisory board. Recently TransferGo raised funding from Practica Capital and got quite some media coverage.
This is great news to whole Lithuanian startup scene, not only TransferGo. When investors like Greg Kidd get involved in local companies on equity level, it also adds visibility and credibility to our community.
Lithuanian app developers Lemon Labs app Check got mentioned in TechCrunch and appFigures blog! Quote from TC:
"Lemon Lab's new app, "Check for appFigures", solves the problem of having to browse the appFigures desktop-sied website using an iPhone, by bringing key statistics to a downloadable iOS application. The app offers a clear and simple overview of importnat metrics like app downloads, updates, and sales."
One of the reaction from Lemon Labs team members in Facebook:
"On the other news, Lemon Labs on TechCrunch again. Once again an awesome Monday."
lol.
Lithuanian startup ImpressPages launched their first premium ImpressPages CMS themes! Check them out:
I should have covered this in the previous update from Lithuania startup community, but better later, than never -weather app Orai developed in the last App Camp reached phenomenal success in Lithuania on all 3 main platforms – Windows, Android and iPhone.
Lithuanian startup Cupo.co – smart e-mail marketing tool for e-commerce – announced a launch of closed beta and testing with first customers. Good luck Cupo.co!
Sorry if I missed anyone – drop me a line in Facebook, Twitter or LinkedIn and I'll write about you next time!