OPEN CALL! | "Corporate Challenge" Begins: Join "Well-Balanced Challenge by SBA"!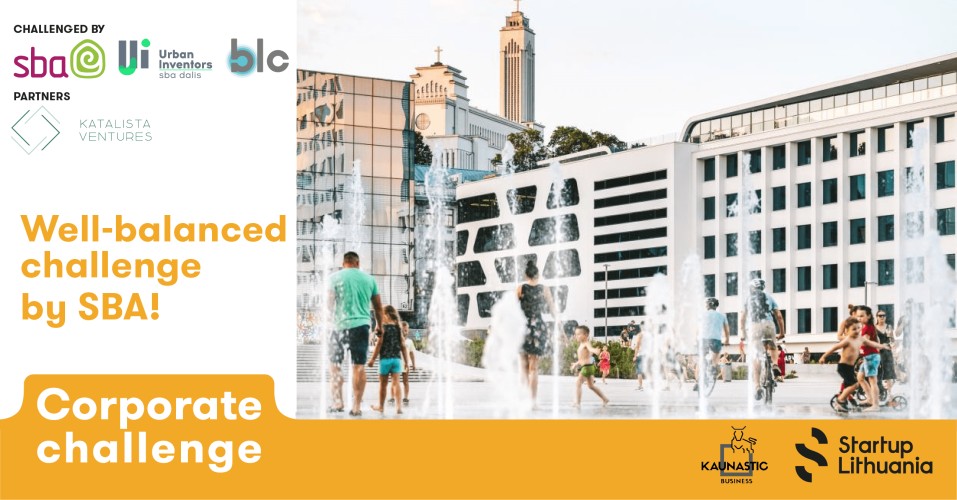 ❗️ A SPECIAL CALL FOR STARTUPS!
We are looking for startups who are ready to take some actions! ❗️
👉 Take part in SBA Group's "Well-balanced challenge" and create a solution (at least MVP) for BLC business center community which commits to the Fitwel certification system's philosophy.
Try to find a solution for this challenge and win the special prize and the possibility to come into partnership with BLC for the implementation of the pilot project!
This challenge is a part of Startup Lithuania project "Corporate challenge", which the main goal is to increase the collaboration between young innovative Lithuanian tech companies and businesses to overcome different day-to-day operational challenges.
During the evaluation process, we will take a look if:
The decision will commit to the physical or emotional well-being of the BLC community health improvement;
The solution will involve the BLC community;
The solution will meet one of the requirements of the Fitwel standard;
The solution is authentic and could be implemented in the BLC business center.
Do you think you can make it?
👉 Hurry up to register! You can register your team until the 3rd of November.
👉 Registration: https://bit.ly/2TdNrmO
After the registration part, we will invite you to Q&A session and will talk about the ideas you have.
On the 13th of November, the lucky ones will have an opportunity to present the ideas to the representatives of the SBA Group.
To help to develop the ideas and pitch them, this challenge and the program of it will provide startups a help and a few online workshops, mentorship sessions to prepare for the presentation of the idea.
And the winners of this challenge will get:
An office to use for three months (up to 100 sq.m. and the possibility to use Banting hall 4 hours/month at BLC business center) and as mentioned before – the possibility to come into partnership with BLC for the implementation of the pilot project!
➡️ Follow the details on our Facebook page Startup Lithuania!