Laravel developer / Laravel programuotojo (-os)
Cargo stream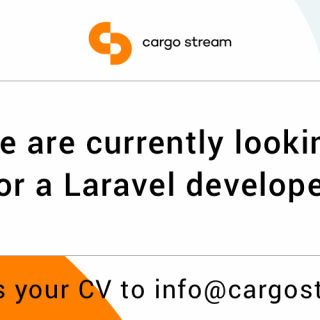 Laravel Developer
Cargo stream is a logistics management platform that ensures speed, economy, and reliability. Our system aims to centralize the entire logistics chain in one place, in real-time. We are currently actively expanding our operations in Lithuania and Europe and intend to become the European logistics management standard.
We are currently looking for a Laravel developer
You:
• You have experience with Laravel framework (PHP, MySQL);
• Ability to work with Git version control system;
• Have at least the basics of HTML, CSS, JS;
• Basics of working with Linux web servers (via SSH);
• Advantage: Experience with the AWS platform.
By joining our team:
• You will work with a successful and experienced international team;
• You will be able to contribute to the development of the organization and implement your ideas;
• Participate in all company events and internal and external training;
• You will grow rapidly with the company and the team.
Salary:
1000-3000 € / month after taxes.
The specific salary is offered considering the work experience, competence, and compliance with other requirements of the position.
———————
Ieškome Laravel programuotojo (-os)
Cargo stream – logistikos valdymo platforma, užtikrinanti greitį, taupumą ir patikimumą. Mūsų sistema siekia centralizuoti visą logistikos grandinę vienoje vietoje, realiu laiku. Šiuo metu aktyviai plečiame veiklą Lietuvoje bei Europoje ir ketiname tapti Europos logistikos valdymo standartu.
Šiuo metu ieškome Laravel programuotojo (-os)
Jūs:
• Turite patirties su Laravel framework (PHP, MySQL);
• Gebate dirbti su Git versijų kontrolės sistema;
• Turite bent pagrindus HTML, CSS, JS;
• Darbo pagrindai su Linux web serveriais (per SSH);
• Privalumas: patirtis su AWS platforma.
Prisidėjus prie mūsų komandos:
• Dirbsite su sėkminga ir daug patirties turinčia tarptautine komanda;
• Galėsite prisidėti prie organizacijos vystymo ir įgyvendinti savo idėjas;
• Dalyvausite visuose įmonės renginiuose bei vidiniuose ir išoriniuose mokymuose;
• Sparčiai augsite kartu su įmone ir komanda.
Atlyginimas:
1000-3000 €/ mėn atskaičius mokesčius.
Konkretus darbo užmokestis siūlomas atsižvelgiant į darbo patirtį, kompetenciją bei atitikimą kitiems pareigybės reikalavimams.
Contacts to apply: info@cargostream.lt