The Pillar Unconference

Jul 15, 16:00 - Jul 22, 17:00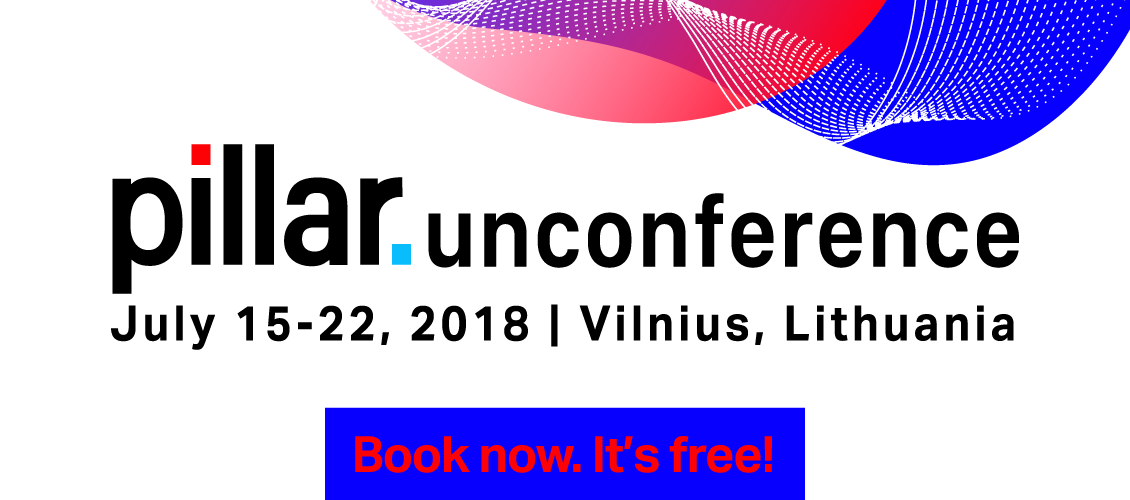 Explore everything cryptocurrency, ICOs, and tokens for free at this summer's blockchain unconference
This July 15th to 22nd, hundreds of entrepreneurs, business leaders, and #crypto pioneers will arrive at the Vilnius Grand Resort, Lithuania for seven days of workshops, case studies, and panel discussions on the future of #blockchain.
"Unconference" means the agenda is crowd-sourced. This means that the stage and breakout rooms are open for organisations to speak, host meetups, workshops, panel discussions, hackathons, and shape the event without incurring any costs.
Pillar has booked the 1,000 seat main conference hall, 6 of the breakout rooms, and several lounge areas which are free to be used and adapted by attendees.
As well as the entire Pillar team, hundreds of entrepreneurs, tech companies, developers, and thought leaders will be attending throughout the week:
LEX SOKOLIN – director of Fintech Strategy at Autonomous NEXT, will lead masterclasses on crypto capital markets, #ICOs, and #token investing.
DAVID SIEGEL – founder of the Pillar Project and author of The Token Handbook, will lead a four-day Token Camp on tokenonomics and daily workshops on business agility.
VINAY GUPTA – project manager from the original Ethereum team, will host talks on the 'Internet of Agreements' and 'Blockchain and the Law'.
RADIX – will host a 'devcon' track for blockchain and smart-contract developers and have partnered with the Blockchain Centre Vilnius, to engage their local communities.
With attendees that span specialisations across #fintech, #cybersecurity and blockchain – it's going to make for interesting discussions all round.
The Unconference will also include festival activities such as local beer tasting, hot air balloon rides, water jetpacking, restaurants, packages for children, open stages for #musicians and performers, and a closing party at the historic Trakai castle.
About the Pillar Project
The Pillar Project, a non-profit foundation based in London, is building the next generation cryptocurrency and ICO wallet that will evolve to become a personal digital assistant. The project promises to empower individuals through decentralised technology, and ownership of their personal data.
Vinay Gupta – https://www.youtube.com/user/hexayurt
Lex Sokolin – https://www.youtube.com/watch?v=hAIhrrv1MVg
David Siegel – https://www.youtube.com/channel/UCXIvBMfmYVmrV6dHIqIxEYA