Startup Health Check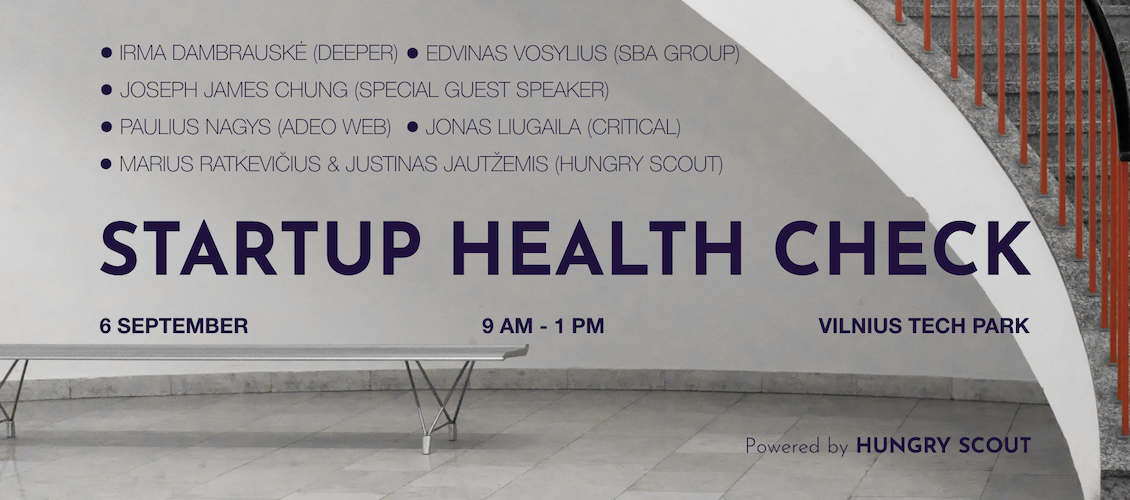 Identifying problems early on and strengthening the health of your startup leads to a sustainable enterprise growth. The speakers will share their expertise and practical tips on how to smoothly grow your startup in these areas: brand strategy, branding, human resources, operational processes, business development and relationships with investors.
The speakers:
Joseph James Chung | SPECIAL GUEST SPEAKER
Galvanizing partnerships for breakthrough success
Marius Ratkevičius & Justinas Jautžemis | Innovation strategists at HUNGRY SCOUT
How strong are your brand strategy bones?
Jonas Liugaila | Strategic Designer at CRITICAL
I didn't get the desired product but it was a good experience with the brand
Paulius Nagys | CEO at ADEO WEB, PO at PASSCAMP
Don't build a startup, build a mindset
Edvinas Vosylius | Director of Startup Investments at SBA GROUP
What do you need to know before starting sales?
Irma Dambrauskė | HR Manager at DEEPER
How to bring the best talents to create your startup success story
You will also have ability to book a free 20min consultation with one of the speakers after the event – just check the box in the registration page. Note that
the availability is limited to 3 slots per speaker and will be alocated on first-come-first-served basis.
Doors open 8:30, kick-off at 9:00.