OFFICE HOURS powered by COBALT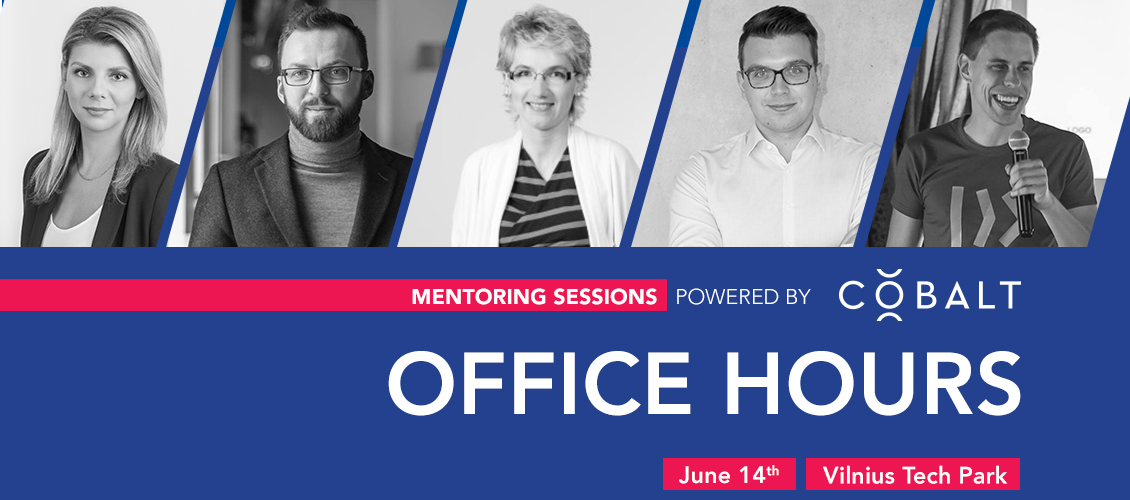 Office Hours mentoring session is back for the SEASON FINALE.
Office hours powered by COBALT is our monthly event aimed to facilitate 1:1 mentoring sessions to BOOST KNOWLEDGE SHARING AND GROWTH. Craft your business solutions, new challenges and ideas with one or several professionals on June 14th.
MEET THE MENTORS:
Julija Beldeninoviene | COBALT
Intellectual property is often the most valuable asset of a technology startup. Julija can share information relating to patents, SPCs, trademarks, copyrights, designs, and protection of confidential information. Julija is going to help you get on track with IP, IT and related litigation.
Book your 1:1 meeting with Julija here:
https://goo.gl/forms/nUwUI7R9PudNUHJt1
Edvinas Vosylius | Deeper
Edvinas is a head of business development for EMEA region at one of the fastest growing Lithuanian tech companies – Deeper. With 9+ years of experience as international business development and export manager and with a vast knowledge of Northern and Central European Markets, Edvinas helps companies to enter new markets and bring the products or services to businesses or customers hands.
Book your 1:1 meeting with Edvinas here: https://goo.gl/forms/Hy9HOJRf3gOXjLg12
Inga Uus | Decreo
Inga is an experienced consultant and lecturer at KTU Kauno technologijos universitetas/Kaunas University of Technology with international experience in the areas of Strategic Marketing, Strategic Management, Innovation Development, Sales and Creative Thinking, founder of Decreo – www.decreo.lt. Inga consults in the areas of strategic marketing, entering a foreign market, creativity (in products and management), thus she can help with strategic decisions in choosing the right business model, value proposition, markets, pricing, product development.
Book your 1:1 meeting with Inga here: https://goo.gl/forms/63r24JB5lA10Erkz2
Karolis Dumbrovas | Adform
Karolis is a business consultant for commercial operations at Adform. Commercial operations at its core help to manage CRM data and make valuable insights, improve productivity by evaluating and implementing sales technology, help sales leaders to make data-driven decisions and work closely with marketing to enable salespeople. Karolis is leading key commercial projects and initiatives across Adform, therefore you can consult with Karolis on sales performance management – how to improve productivity, evaluate and implement various sales technologies.
Book your 1:1 meeting with Karolis here: https://goo.gl/forms/kAZJKEZrHyOxd1Ek2
Regimantas Urbanas | sem.lt
Regimantas, Head of Marketing and Business Development at the leading Baltic performance agency – sem.lt. Marketing strategist with 12+ years of experience working in the digital departments of the leading Lithuanian media agencies (Media-House & Publicum Media), biggest media channel – 15min.lt, best company in the World – Google and one of the most established Lithuanian startups with the global ambition and expansion potential in the urban mobility space – Trafi.
Regimantas is hoping to meet startups, which would be interested in the new product launch, new market entrance or overall growth of their users/sales.
Book your 1:1 meeting with Regimantas here:
https://goo.gl/forms/qWnz3cMiSCsfNiAq1
The event is free of charge.
Start a conversation. Grow a business.
//
COBALT helps start-ups grow from a napkin-idea to a profitable company by providing both strategic and day-to-day advice on all related legal matters.
A dedicated lawyers team regularly advise start-ups, founders and investors on a broad range of key legal topics from investor-client relations, angel investments, and venture capital funds, to IP and data protection, tax, and employment-related legal matters. Consultations are subject to flexible pricing.
Tailored legal solutions for new and growing companies to succeed enable COBALT to be a first-choice legal advisor for the start-ups in the region.